200 Hour Yoga Teacher Training in Rishikesh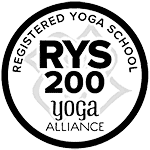 This 200 Hour Yoga Teacher Training in Rishikesh Program is a concentrated program intended to give you the information, abilities, and certainty to teach yoga based on the Ashtanga Primary Series and Hatha style.
Your Yoga Teacher Training journey isn't just about deepening your practice in yoga, yet additionally about acquiring the skills to teach others.
Our Multi-style yoga for beginners course will assist you with turning into a Yoga Alliance Certified Teacher in just 26 days. With our approved Yoga TTC certificate, you will be able to teach yoga all around the world.
We passionately believe in the development of your unique personal voice and style as a Yoga Teacher. Our accomplished Indian instructors, who are renowned for their insight and devotion towards their practice of yoga are going to be with you from the day you join the course till the day you leave for your subsequent home.
All our subjects and techniques of teaching are according to our curriculum approved by Yoga Alliance, USA.
200 hrs Yoga TTC in Rishikesh
This multi-style yoga course focuses on the knowledge of the eight limbs of the ashtanga yoga primary series – yamas, niyamas, asana, pranayama, pratyahara, dharana, dhyana, and samadhi. Ashtanga yoga is a series of asanas created by K. Pattabhi Jois that involves enhanced stretches, strength, and stress management techniques. Moreover, the asana alignment sessions involved in the class will significantly improve the way of doing the posture.
This comprehensive curriculum also covers Yoga philosophy based on Patanjali's Yoga Sutras, yogic lifestyle and ethics, yogic diet, anatomy, and physiology for yoga teachers and practitioners, to help you form a balanced life.
At the end of the course, you will be ready to practice and teach the whole series at your own pace.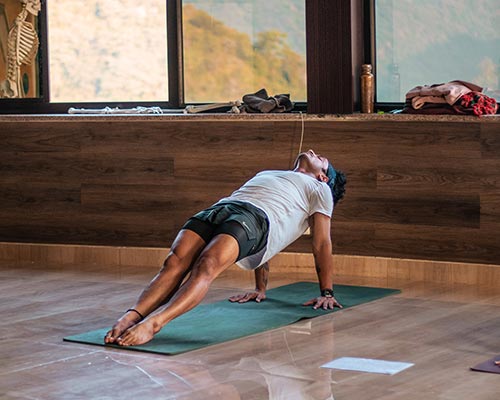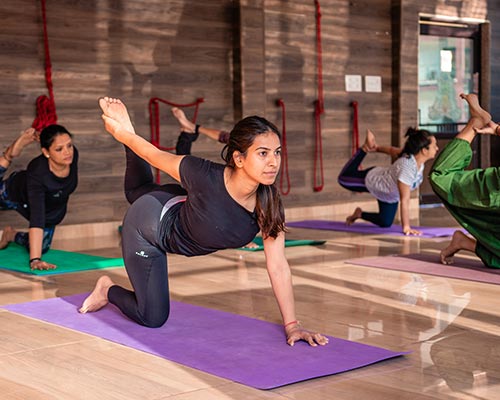 'Hatha' is a Sanskrit word, which means "discipline of force" and the goal of Hatha yoga is to strengthen your muscles and create a mindful connection to your body. Hatha Yoga is known as the core of Asana Practice. We strongly encourage you to bring your creativity into your teaching styles.
In our 200 Hour Yoga Teacher Training in Rishikesh, you will also have the benefit to explore other styles of asana practice including Yin and restorative yoga, to develop your experience and knowledge of other yoga traditions and styles during the course.
Syllabus for 200 Hour Yoga TTC
| TIME | ACTIVITY |
| --- | --- |
| 06:30 - 07:30 | Shatkarma, Pranayama & Mantra |
| 07:40 - 09:30 | Hatha Yoga |
| 09:30 - 10:00 | Breakfast |
| 10:30 - 11:30 | Yoga Anatomy |
| 11:45 - 12:45 | Yoga Philosophy |
| 13:00 - 13:30 | Lunch Break |
| 13:30 - 16:00 | Self Study / Free Time |
| 16:00 - 18:00 | Ashtanga Vinyasa & Alignment |
| 18:15 - 19:15 | Meditation |
| 19:15 - 19:45 | Dinner |
Deepen Your Knowledge - Yoga for Beginners
By attending our Agni Yoga 200-hour Ashtanga Hatha Yoga Teacher Training in Rishikesh you will:
Learn how to teach and practice a broad range of asanas and mudras.

Learn the appropriate and correct alignments for each posture.

Explore the modifications and variations of the most common asanas.

Understand the basic concepts of yoga anatomy and how the body works.

Experience and practice different types of pranayama and breathing techniques.

Explore various ways to meditate and get to know about different types of mantra chantings.
Our 200-hour Yoga Teacher Training course will help you to deepen your knowledge of yoga and gain confidence in teaching the same. Our Yoga Teacher Training program is a practical training course designed to help you to become an effective Yoga teacher for all levels of students.
By the end of the course, you will be able to create asana flow sequences on your own and will be able to teach confidently.
Since we offer you a practical approach, there will be lots of opportunities for you to teach. During the course, our teachers will encourage you by making you begin the class sometimes with mantras and prayers, and by the end of the course, you will be ready to teach the entire group. You will receive feedback from your teachers and your classmates as well, to help you to improve and to find your unique voice and style as a teacher.
You will learn the basic principles of creating Hatha and Vinyasa Flow sequences based on a chosen theme. There will be lots of guidance on how to improve and enhance your teaching skills and how to plan and structure a class.
Besides, you will learn about the principles of demonstration, assisting and correcting, verbal instructions, teaching styles, the qualities of a teacher, voice projection, planning and structuring a class, alignment, and hands-on-adjustment, dealing with injuries and safety precautions, ethics, and much more.
This Course is for you if
You want to deepen your knowledge of Yoga.
You are want to learn yoga beyond asanas.
You have been practicing yoga intensively and continuously, and want to move to the next level.
You want to learn how to get balance between body, mind and soul.
You want to go deeper in your asanas and meditation practice.
You want to learn and practice yoga in a place surrounded by Ganga River , Hills and Greenery.
You are looking for a safe  well structured yoga institute that provides knowledge in a friendly yet challenging way.
You wish to explore the Precise and deeper level of awareness.
You have a strong desire to share this art of living with others.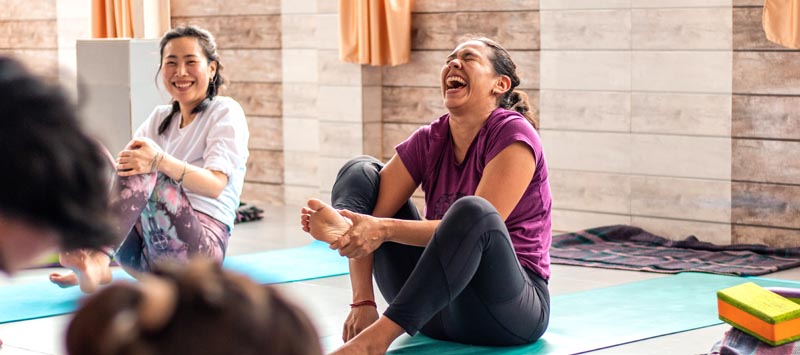 Course Dates For 200 hour Yoga Teacher Training Rishikesh
( Double Occupancy )
1 Double Bed in a Room
Attached Bath and Toilet
( Double Occupancy )
2 Separate Beds in a Room
Attached Bath and Toilet
( Single Occupancy )
1 Double Bed in a Room
Attached Bath and Toilet
Our Weekend Activities & Excursions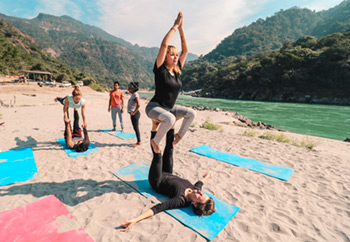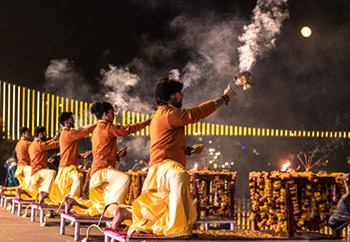 Ganga Aarti (Fire Ceremony at the Ganges)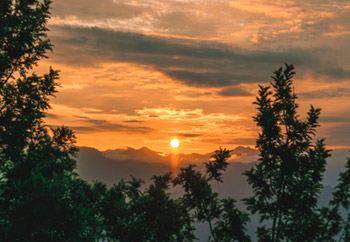 Sunrise from The Himalayas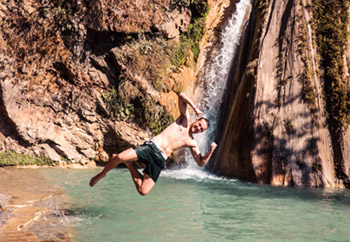 Yoga by the Ganga (Beach Yoga)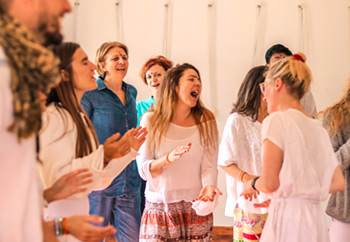 Kirtan & Satsang (Spiritual Mantra Chanting and Dancing)