500 Hour Yoga Teacher Training in Rishikesh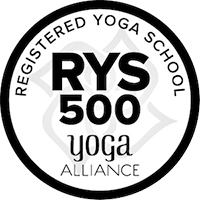 The 500 hour yoga TTC at Agni Yoga India is a combination of 200 hour yoga teacher training in rishikesh and 300 hour yoga teacher training in rishikesh spanning over the course of two months, all while being surrounded by the mountains and the holy River Ganga. You will experience both the Primary Series and Intermediate Series of Ashtanga yoga in this beginner to intermediate and intermediate to expert level yoga course.
This is a complete yoga teacher training certification programme spread over the duration of 60 days and conducted in 2 stages. 
In the first stage, the program will commence with the 200 hour yoga teacher training course, where our expert group of instructors will help you understand the fundamentals of yoga schooling and the basic information on instructing yoga. Throughout the training, they will provide you instructions to build your confidence to perform asanas and teach yoga thereon.
In the second stage, this program will be taught as per the 300 hour yoga teacher training course methodology. You will explore deeper and more profound ashtanga yoga poses with the intermediate Series of ashtanga yoga at this level.
Additionally, the combination of the two programmes will help you gain knowledge and self-confidence about ashtanga yoga in general. And as we get closer to the end, you'll be fully equipped to teach both series and conduct your classes with thorough knowledge of asanas and related subjects.
Who is qualified to apply for the program?
Anyone who is interested in learning yoga can whether beginner or with intermediate knowledge can apply for 500 hoe yoga TTC. After the completion of the course, you will be qualified to teach anywhere in the world and not just in India. The minimum age to enrol in this course is 18 years.
500 Hour Yoga TTC in Rishikesh
Ashtanga Yoga, also known as Ashtanga Vinyasa Yoga, is a vigorous and smooth flowing style of yoga that originated in the twentieth century. It entails synchronising breath while moving into progressive and continuous postures, that results in generating internal body heat while detoxifying the body. It improves overall health by increasing strength, stamina and flexibility while also calming the mind.
It is based on six levels of practise sequences with increasing difficulty at every level. These sequences are known as the Primary Series, Secondary Series, and Advanced Series A, B, C, and D, respectively. The Primary and Secondary series are for beginner and intermediate level of yoga learners and practitioners. The Advanced Series A, B, C, and D is only for advanced students. Each series consists of a set of poses that must be performed in the same order every time. The sequences are physically demanding and fast-paced.
When the course is over, you'll be equipped to practice and teach the entire Primary series of asanas with your style and at your speed.
The word 'ha' means Sun, and the word 'tha' means Moon. Hatha means balancing your Sun and Moon energies. Hatha also means to be tenacious.
Hatha yoga is the science of balancing our Pingala and Ida – our solar and lunar energies to make our higher consciousness alive. It is the science of activating the third and central nadi which is the path to enlightenment called Sushumna.
Hatha is one of the oldest forms of Yoga practice in South Asia, dating back over 2000 years.
Traditional Hatha Yoga practice entails far more than the well-known Yoga asanas. Hatha Yoga texts emphasise the value of mental qualities such as courage, enthusiasm, determination, and patience. They also emphasise the critical importance of lifestyle, diet, and moral and ethical behaviour.
Hatha Yoga has also traditionally been used to prepare our bodies and minds to access our meridian channels. Preparing the proper environment, particularly for the mind, allows the practitioner to perform medication, giving them access to Universal Consciousness.
Syllabus for 500 Hour Multi-style Yoga Teacher Training Course
During 200 hours course month
During 300 hours course month
During 200 Hours Course Month
| TIME | ACTIVITY |
| --- | --- |
| 06:30 - 07:30 | Shatkarma, Pranayama & Mantra |
| 07:40 - 09:30 | Hatha Yoga |
| 09:30 - 10:00 | Breakfast |
| 10:30 - 11:30 | Yoga Anatomy |
| 11:45 - 12:45 | Yoga Philosophy |
| 13:00 - 13:30 | Lunch Break |
| 13:30 - 16:00 | Self Study / Free Time |
| 16:00 - 18:00 | Ashtanga Vinyasa & Alignment |
| 18:15 - 19:15 | Meditation |
| 19:15 - 19:45 | Dinner |
During 300 Hours Course Month
| TIME | ACTIVITY |
| --- | --- |
| 06:30 - 07:30 | Shatkarma, Pranayama & Mantra |
| 07:40 - 09:30 | Hatha Yoga |
| 09:30 - 10:00 | Breakfast |
| 10:30 - 11:30 | Yoga Anatomy |
| 11;45 - 12:45 | Yoga Philosophy |
| 13:00 - 13:30 | Lunch Break |
| 13:30 - 15:00 | Self Study / Free Time |
| 15:00 - 16:00 | Yoga Therapy |
| 16:00 - 18:00 | Ashtanga Vinyasa & Alignment |
| 18:15 - 19:15 | Meditation |
| 19:15 - 19:45 | Dinner |
Objectives and Benefits of 500 Hours Yoga Teacher Training Course
Irrespective of your level of practice, our 500 Hour Yoga teacher training course rishikesh will equip you with all the necessary skills that you'll require to become a highly proficient yoga teacher. The objectives of this program are
Get into the yoga discipline by creating a daily yoga practice routine for yourself.
Develop expertise in dhyana, kriyas, mudras, and pranayama.
To thoroughly learn the Patanjali Yoga Sutras and how to follow and apply them to your everyday practice and life.
To deeply understand and learn about the skeletal and muscular systems and how it relates to your practice and teaching.
To gain the skills to teach and conduct yoga classes.
To understand how to create a structure and flow for a class by incorporating all of the elements you learned.
Following are some benefits of 500 hour yoga TTC at Agni Yoga India
Joining this program will aid you in your quest to delve deeper into the study of yoga.
You will stand out from the crowd and gain real respect as a yoga instructor and professional.
This will help you teach yoga correctly and learn the necessary techniques.
You can establish and run your own yoga school or centre, or grow your current yoga school. Our 500 hour yoga TTC would undoubtedly be very beneficial for this.
Who is this course meant for?
If you have a strong desire advance yourself and learn more about yoga, its practices and philosophy then this course is meant for you. This teacher training course will provide you with a thorough understanding of yoga, regardless of whether you are a yoga practitioner or a teacher who wants to learn more or advance your knowledge.
This course is meant for you if
You have been practising yoga intensively and continuously, and want to move to the next level.
You want to deepen your knowledge of yoga and increase your knowledge beyond asanas.
You want to go explore and go deeper in your practice of asanas, meditation and self-awareness.
You want to learn how to find and maintain the spiritual balance between body, mind and soul.
You are looking for a safe and well-maintained yoga institute that provides a friendly yet challenging environment to learn and grow.
You have a strong desire to spread your knowledge of yoga with others through the medium of teaching.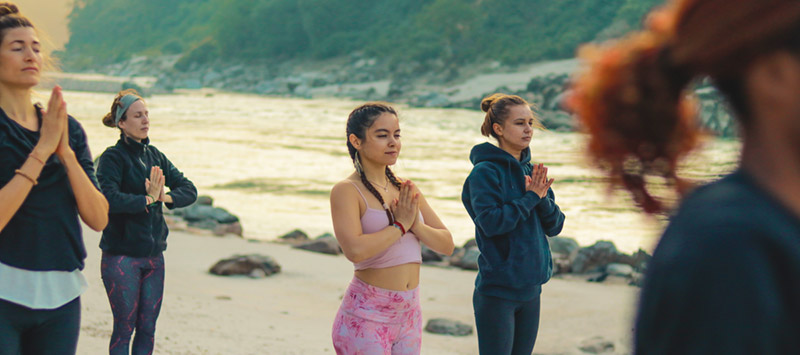 Course Dates For 500 hour Yoga Teacher Training Rishikesh
( Double Occupancy )
1 Double Bed in a Room
Attached Bath and Toilet
( Twin-Shared Room)
2 Separate Beds in a Room
Attached Bath and Toilet
( Private Room )
1 Double Bed in a Room
Attached Bath and Toilet
500 hour Yoga Training India
Our Weekend Activities & Excursions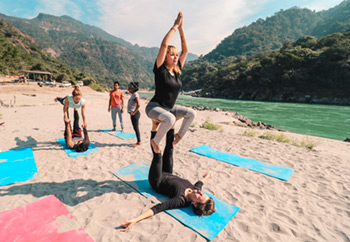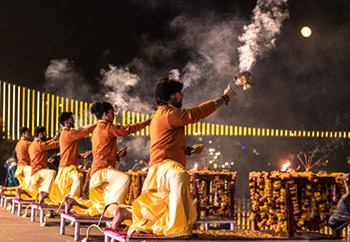 Ganga Aarti (Fire Ceremony at the Ganges)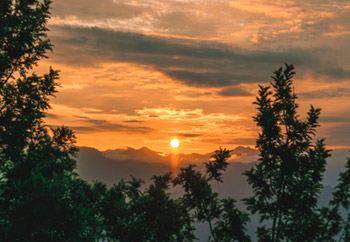 Sunrise from The Himalayas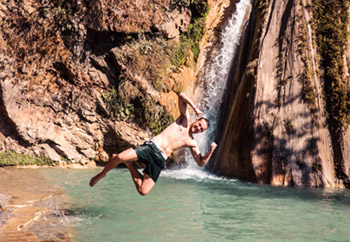 Yoga by the Ganga (Beach Yoga)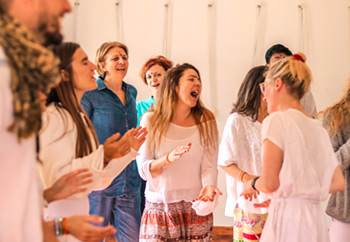 Kirtan & Satsang (Spiritual Mantra Chanting and Dancing)