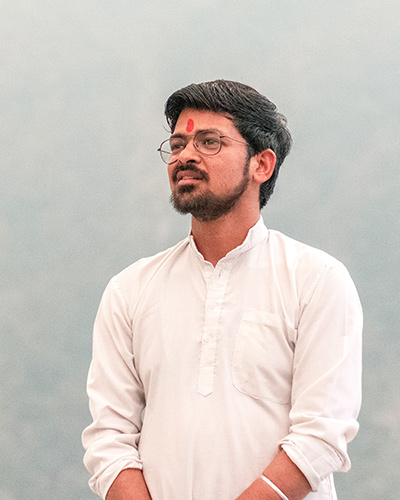 YOGA ANATOMY & PHYSIOLOGY TEACHER
Harmindra Ji is one of the best Yoga Anatomy & Physiology teacher in Rishikesh. His remarkable knowledge and experience in yoga have helped thousands of yoga aspirants around the world to live a better life physically and mentally. He has been teaching Yoga Anatomy & Physiology since 2013 and is a certified Yoga Teacher as well. He has done a master's in Yoga from one of the reputed Universities known as Dev Sanskriti University in Haridwar, Uttrakhand, India. His devotion to sharing his knowledge with other yoga aspirants makes him a wonderful teacher.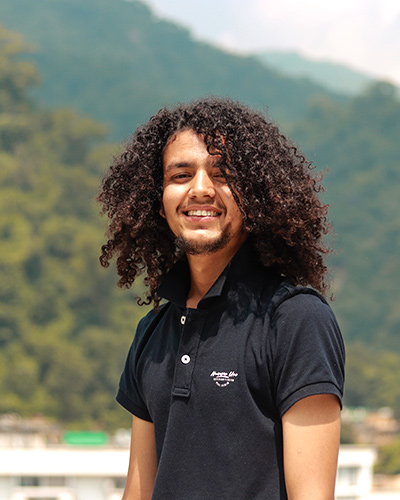 PRANAYAMA, MANTRA CHANTING & TEACHING METHODOLOGY TEACHER
Vikas Ji holds master degree in Yogic Science from Uttarakhand Sanskrit University. With years of experience in learning and teaching, he has become a master of advanced Pranayama skills, Spirital Mantra chanting and teaching students how to teach. He has focused his life helping people know the main aspects of teaching yoga, to a group of people at a time or to an individual. Also his amazing pranayama techniques are particularly beneficial for people suffering from psychological issues. Those who have attended his classes have noticed visible improvement in their health in a short period of time.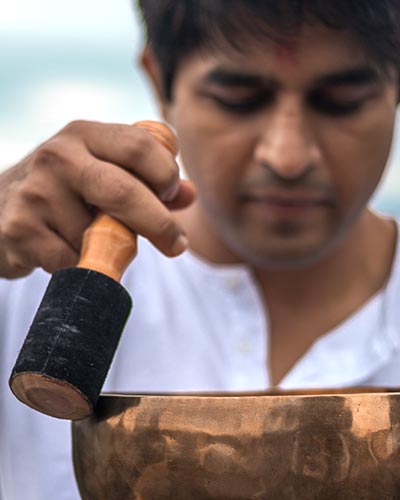 Shrikant belongs to a Hindu family living in the capital of India. At the age of 25, Shri left his job to follow the path of Yoga and spirituality. He always wanted to study vibrations and their healing properties. Shri has about Four years of experience in Sound healing. He has had the privilege to learn about Yoga Philosophy and Human Psychology. He is a certified yoga teacher and has pure devotion to making yoga his lifestyle.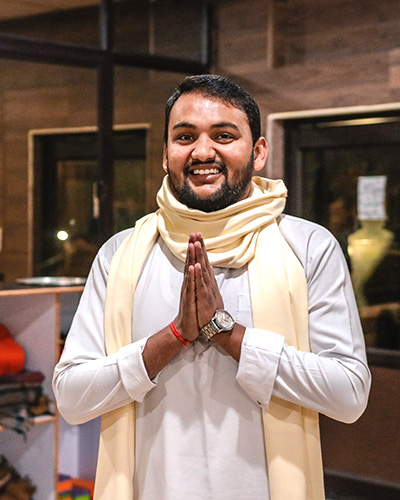 YOGA PHILOSOPHY & MEDITATION TEACHER
Yoga is derived from the word Yuji and is the ancient practice that synchronized the mind and the body. Mohit Ji the loved Philosophy teacher who was born in a Brahmin family is from Rishikesh. He was deeply influenced by Ashrams, its lifestyle, and Yoga as a practice. Soon after the master's from Uttarakhand Sanskrit University in Yogic Science he started being a part of yogic seminars, started his contribution to the ashram, and much more. He has been teaching philosophy since 2014 and believes in meditation as a source of inner peace.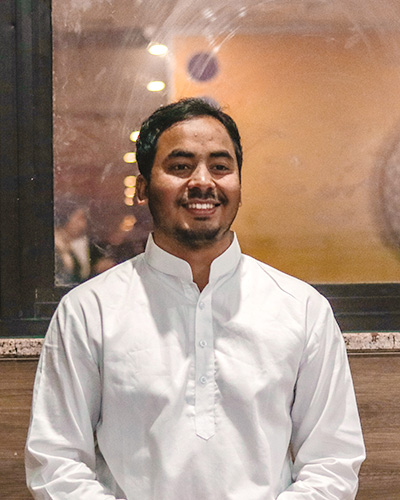 Vishnu Ji has instructed in various schools of Rishikesh and got unbelievable gratefulness from the understudies from all corners of the world. He started learning yoga at the most famed Bihar School of Yoga, Munger. He is a follower of Swami Niranjanananda, the well-known yoga instructor in Rishikesh. He is the lead Hatha Yoga Teacher at Agni Yoga India and is very much devoted to make yoga his lifestyle. He is always there to share information for avoiding bad postures, minor injuries and know how to heal quickly. At first, his classes challenges your body but with time being it adopts your body and brain to reach in the condition of peace and satisfaction.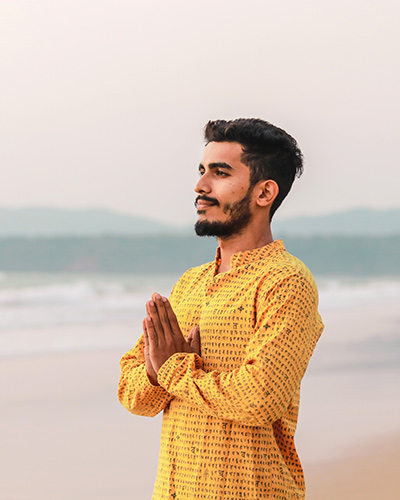 YOGA ANATOMY,
YOGA PHILOSOPHY &
MEDITATION TEACHER
Viraj Ji belongs to a Brahmin family and was born and bred in a beautiful town in Goa. His family roots have always had a firm grip on spirituality because of his father and his forefathers following the priesthood. He spent his childhood in a match (an Indian monastery) and grew up reciting chants and mantras. He has had the privilege to witness far too many spiritual practices. Later, he realized his great hand in sports and played every sport that is possibly known. He also knows a lot about the human body and nutrition. He is specialized in anatomy, meditation, and chanting.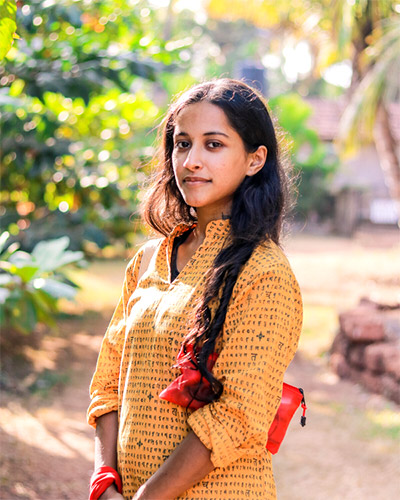 ASANA ALIGNMENT,
YOGA THERIPY &
TEACHING METHODOLOGY TEACHER
Arushi Ji is a yoga teacher from Rishikesh, the world capital of India. She is a 500-hour Yoga Alliance certified yoga teacher and has been teaching yoga since 2014. She was born and brought up in Rishikesh so she started yoga at a very young age. She started her journey from an ashram in Rishikesh, where she got introduced to the yogic way of living and the reality of yoga. Her area of expertise includes asana alignment, meditation or pranayama, mantra chanting, Shatkarma, asana classes (Ashtanga Vinyasa, Hatha, and Vinyasa flow) and yogic philosophy.
Abhishek Ji started his Yogic journey in 2011 from the World's Yoga capital Rishikesh. He had successfully completed his Post-Graduate Diploma in Yoga Science from Uttarakhand Sanskrit University instituted in Haridwar, India. His detailed and effective asana alignment techniques are a gift form his years of studies under various Yog Gurus of India. The classes conducted by him is an amalgam of practical demonstration, theory involved and discussion on the yoga topics. His teaching methodology focuses on rectification of alignment and moments in Hatha yoga and Ashtanga Vinyasa Yoga.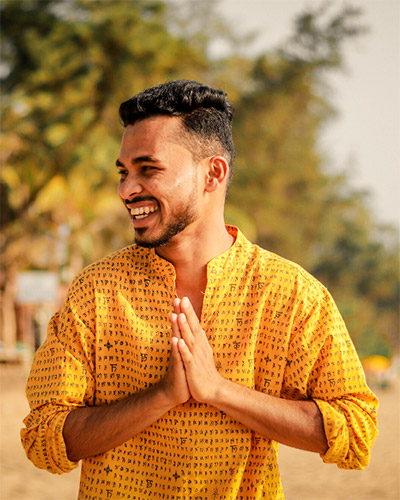 HATHA YOGA,
ASHTANGA YOGA &
PRANAYAMA TEACHER
Pravesh Ji, a yoga enthusiast from the age of 10, had always dreamt of becoming a yoga teacher. His aim is to add value to peoples lives by teaching and imparting the knowledge of yoga for the benefit of human race at all stages. Influenced by yoga in an early age, his practice and dedication made him decide to take his passion as his aim of life. He started his yogic practices from a very early age and decided to take Hatha Yoga and Ashtanga Yoga as a path for his yogic journey. His pure dedication towards asana practice and pranayama techniques makes him a well grounded yoga teacher.
Satish Ji is a certified yoga teacher from Rishikesh with a teaching experience of 10+ years. He is a master of yoga asanas/postures and teaches Ashtanga Yoga as his core. He has taught yoga to so many students coming to Rishikesh from every corner of the world. His calm persona and a gentle smile make him really approachable for students to interact. His dynamic style of teaching has always been appreciated by the students. Along with yoga asanas, he also has an expertise in vedic mantras. He usually begins his class with mantra chanting and takes forward the lesson in positive energy. Under his guidance, the most dreaded yoga asanas become easy and fun.